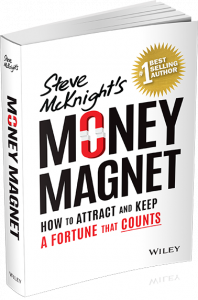 MONEY MAGNET –
HOW TO ATTRACT AND KEEP

A FORTUNE THAT COUNTS
What's the secret to attracting money and building wealth? Many of us struggle with our finances and are stuck in survival mode —having just enough to keep afloat. But attracting money is a skill that can be learnt by anyone, and it's easier than you think to move from surviving to thriving. It's time to learn how to count your money and make your money count.
In the new ground-breaking new book, Money Magnet (Wiley, RRP $32.95), bestselling author and self-made multimillionaire Steve McKnight provides a simple yet powerful guide to make, manage and multiply your money, and to make your wealth count by giving it real meaning.
What's In The Book?

McKnight expertly reveals the crucial truths and tools needed to acquire a wealth mindset and make a plan that will improve your life and the lives of others. A reader will discover:
Why you might be pre-programmed to fail financially
How to attract more wealth by changing the way you think and act around money
A step-by-step guide for calculating how much wealth you need to achieve financial freedom
How to identify your means and how to live within them
The proven investing formula for building wealth fast
How to give your money meaning; and
Handy templates and checklists to help plan, manage and measure your wealth-building progress.
A very practical how-to guide that includes valuable tools to help manage and monitor progress, Money Magnet empowers the reader to go beyond survival and to consider how to use your money to build a legacy of significance.
Sample Chapters

If you'd like to try before you buy then you can download the first four chapters here.
Grab Your Copy
You can grab your copy of Money Magnet here:
…and where all good books are sold.